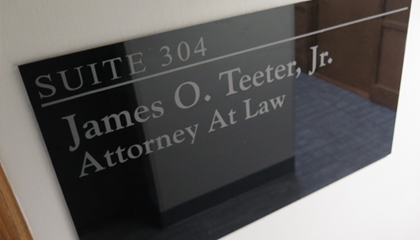 Security Retainer
When you decide to hire and secure the services of Attorney James Teeter, you will sign a retainer agreement, and agree to pay a retainer fee. Our retainer fee averages $2,750 but could be higher or lower based on the complexity of your case. This fee is similar to a security deposit on an apartment, in that it secures Rockford Family Law will receive payment for working on your case.
Pay As You Go
When Rockford Family Law works on your file, the amount of time spent working on your case is tracked, and you are billed at an hourly rate, for our legal services.
You will receive a monthly invoice for the hours we spend on your case, as well as any out-of-pocket expenses, such as Court fees.
Our rates are highly competitive, as the average cost for a family lawyer in Illinois, is $300 – $375 per hour, and in bigger cities, such as Chicago, go as high as $450 – $500 per hour.
Attorney Teeter charges $260.00 per hour for his 25+ years of legal expertise, and $110.00 per hour for services performed by his professional Legal Assistants.
Trial Retainer
Generally, lawsuits settle before going to trial, but if that does not happen and a trial is required, we may request a "trial retainer." This is because trials require a large amount of time and preparation.  A trial retainer is similar to your initial retainer, in that it secures Rockford Family Law receives payment for preparing and arguing your case in front of a Judge; including the time spent preparing exhibits, interviewing witnesses, time in the Courtroom itself, and much more.
Payment Methods
Rockford Family Law accepts all major credit cards including Visa, Mastercard, American Express and Discover.  We also accept cash, money orders, and checks.
Our Firm Will Be There for You
Our role as your law firm is to take on the burden and stress of your matter so that you can carry on with your life.  We know that you are going through a difficult period, and we will help you get through this process so that you can start anew.